We lift up the most important experts in the room: the parents and caregivers that have experience with children living with mental health challenges, or "lived experience."

An ounce of prevention is worth a pound of cure. The sooner that babies, children and their families get the support they need, the sooner their brain development can get back to balance.
---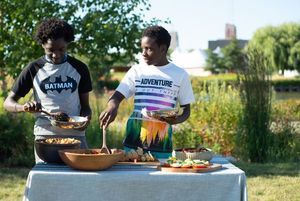 "[The coalition is] a safe haven, where I can just come and be myself and help me really see myself, and from that take everything that I'm learning in our groups and channel it so that families can see that this work can be done together, we can do this together." - Family Leader with Coalition
---
Most photos on website thanks to Rachel Jepson Wolf. Check out The Unplugged Family Activity Book, which features our Coalition members.
"There can be no keener revelation of a society's soul than the way in which it treats its children."
Nelson Mandela, Former President of South Africa
Our members were inspired by the phrase "Kasserian Ingera" (translated to "How are the children?") and the story behind it. Learn more here about why we focus on the mental health of our youngest kids. A thriving city, state, country, and world are built on thriving kids.
Let's work together as professionals, advocates, parents, and Community Health Workers! Let's strengthen the people and places (the "village") that help a child grow up, so that families are healthy no matter their ZIP code.