Most people do not understand mental health or even that mental health develops early on with kids. What fills in the gaps of knowledge tend to be false stories of shame and blame ("it's so-and-so's fault", "try harder"). There are many ways that stigma is reduced, including sharing personal stories and having people across a community trained to care about kids' mental health whether people are working with kids or families directly or working only with adults whose early childhood experiences shaped their brain development.
Our goal is to have a workforce across our community that is skilled enough to identify early and respond appropriately to concerns that arise. In addition, we want a workforce that is helping develop the social and emotional skills and wellbeing of all kids wherever they are (school, home, clinic, library, etc.). We have developed the pyramid below to show that there is foundational knowledge that everyone can have. If you are a librarian, what do you need to know about children's mental health to interact with a family that checks out a book? Or with an adult who may be irritated because of late fees?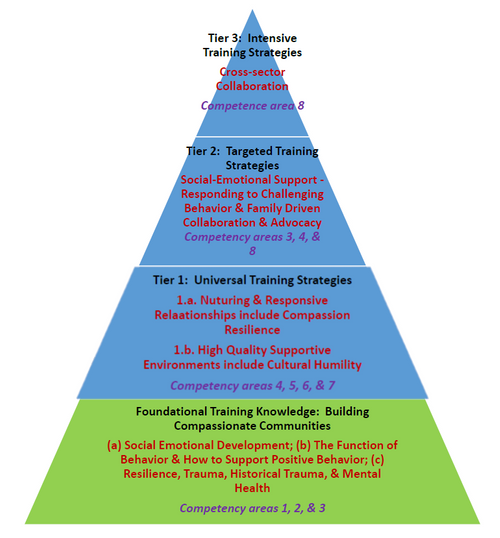 We are currently developing workshops to build on core competencies, the knowledge everyone should have. Specifically, we are including the personal views and stories of parents in our Coalition who are co-developing the workshop and will also help facilitate the workshops once ready to go. We are focusing on first training people with trusted connections (family navigators and other CHWs).
---
If you want to know more about our workshops, then contact us. We will connect you to the Workforce Development Strategy Coordinators, Joelisa Castillo and Tammy Scheidegger. In the meantime, check out this link on one of our competencies: Compassion Resilience.